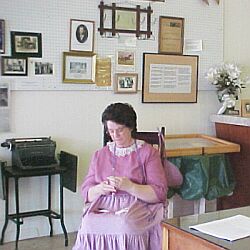 The Blanket Museum of History was opened on July 29, 2006 to display and preserve the history of Blanket, Texas. The museum is located at 712 Main in Blanket and is open on Saturday afternoons and by appointment. Call Doris Teague at 325/748-2491 for special tours or to be sure the museum will be open. Pictured at right is Beth tatting in front of bank information. Above is a 1933 Ford Truck on special display for museum opening day.
Not only does the museum have many artifacts from Blanket but it is also a research center for family histories. There are many books and notebooks with family histories as well as other resources available for those who are interested in genealogy or just the history of the community of Blanket.
The museum is housed in the former Blanket State Bank building and the former Ernest Allen Drug Store building. The State Bank building was built in 1901 and still has the original metal ceiling. Following a fire that destroyed the former Allen Drug Store, that building was reopened in 1928.