305 North Fisk Avenue
Brownwood, TX 76801
325/643-3322
| Historical Markers | Brown County Cemeteries | Directions to Cemeteries | Officers |
| Pioneer Families Program | Texas Historical Commission | Historical Farms and Ranches |
| Historical Postcards of Brown County|
The purpose of the Brown County Historical Commission shall be to preserve, protect, and promote history within the County. This includes:
Historical marker recommendations and placements.
Make recommendations to the Brown County Commissioners Court for property acquisition, real or personal, which is of historical significance.
Accept, whenever feasible, artifacts and other museum paraphernalia in the name of the Brown County Historical Commission or the Brown County Commission.
Support, whenever possible, the programs of the Texas Historical Commission.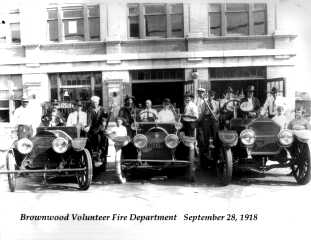 The Commission's major function shall be to discover, collect and preserve any material which may help to establish or illustrate the history of this area. The Commission is also the local representative of the Texas State Historical Commission and shall cooperate with the State Historical Commission as a unit thereof.
The Commission normally meets the last Monday of each month at noon. Meeting place varies so check ahead of time.
Use Google Below to Search This Web Site